Socialization and Activities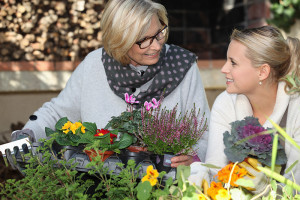 When some families and visitors see our activities calendar, they exclaim it looks like camp! We make sure we have something for everyone. Enjoy gardening, history discussion, books, card games, table games, bingo and more. If someone just wants to relax and watch a film, we have movies for you to view.
We also like to encourage our residents to get moving! Dancing, adaptive exercise and more are some of the ways we help residents leave their rooms and enjoy life. We also provide transportation to local facilities and medical offices, as well as social outings.
Quality Dining
Not only is our dining room full of comfort and charm, but the food is also amazing. Our dietician creates menus that not only have the healthy nutrients you need, but will also be delicious enough to eat all of it. If you have any special dietary requirements, we can incorporate them into your meal planning.
Many visitors enjoy sharing a meal with their loved ones. Evening and holiday meals can be a great time for families to get together. Contact our center to find out more about the visiting and dining schedule.
Home-Like Environment

Comfortable and relaxing. We know we won't be able to bring out your best unless you're at your best. To meet this goal, we have designed an environment that will give you comfortable surroundings including beautifully decorated rooms, landscaped grounds, and supportive socialization. We probably should not leave out the dining – a friendly dining room with excellent food.
We also have taken special care to create an exterior that also promotes healing and relaxation. Tropical landscaping and shaded resting areas are all inviting and rewarding. Fresh air and sunshine are parts of enjoying life in South Florida.